5mW-1200mW 640nm Red Diode Laser System
640nm red diode laser system employs the best quality red laser diode with near TEM00 circular beam mode, getting the best quality red laser beam within wide output power range of 5mW to 1200mW. Powered by external AC driving, it allows the easiest operation and high output power stability in long term operation, ensuring up 10000 hours serving lifetime and the most competitive price.
was
$676.00
Special Price
$655.00
Available with special near TEM00 beam mode with low beam divergence of less than 1mard, 640nm red diode laser system always provides users the best quality red laser beam and light spot on various targeting surfaces. Within wide output power level of 5mW to 1200mW, red diode lasers fulfills high brightness red laser lighting emission within a quite wide range operating distances.
640nm red diode lasers are widely used in a large variety of scientific research application fields, including laser light displaying, measurement, spectrum analysis, PIV etc. This compact size designed red laser system and equipped AC driver are both FDA safety standard approval, getting wide applications in universities, scientific research centers, and labs etc.
Key features:
● Reduced dimension and high duration structure.
● TEC cooling system gets the most efficient thermal conductivity
● TTL and analog modulation selectable
● FDA safety standard approval Class IIIa, IIIb lasers
● Near TEM00 beam mode enables the best quality red diode laser beam
● Protection from statistic, over current, overheating, getting up 10000 hours serving lifetime
● High duration anodized aluminum housing, workable for various working environment, harsh occasions workable
● Simple AC power supply running mode, easy and convenient to operate
Technical data:
Item
Red Diode Laser System
Wavelength

640±5nm

Output power

5mW-200mW

200mW-700mW

700mW-1200mW

Power adjust(mW)

0-Pmax

Transverse mode

TEM00

near TEM00

near TEM00

Operation Mode

CW

Power Stability(rms, over 4hours)

<1%, <3%, <5%

M2 factor

<1.2

<1.2

<1.2

Beam divergence, full angle (mard)

<1.0

<1.5

<1.5

Warm up time (minutes)

<5

<5

<5

Beam waist diameter(mm)

<2.0

<4

<4

Spectral line width (nm)

<2.0

~2.0

<2.0

Point stability after warm-up(mrad)

<0.05

<0.05

<0.05

Polarization

100:1

100:1

100:1

TTL modulation

30KHZ

30KHZ

30KHZ

Analog modulation

30KHZ(0~max output when 0-5V signal input)

Operating temperuter (℃)

0-40

0-40

0-40

Storage temperature (℃)

-10-50

-10-50

-10-50

Modulation Option

0~30khz TTL/Analogue

Severing lifetime (hours)

10,000

Warranty period

1 year
Dimension of near TEM00 circular beam 640nm Red Diode Laser System: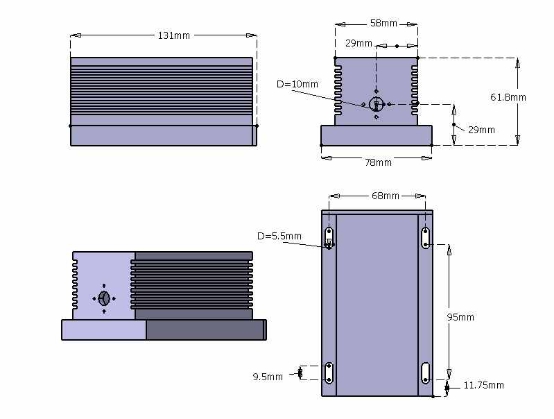 Note:
Berlinlasers accepts customize 640nm point laser, line laser and crosshair laser, fiber coupled lasers and OEM lasers on basis of customers' requirements. All high power 640nm red diode lasers specifications accept customize according to user's need. For any OEM laser, please feel free to contact us via email support@berlinlasers.com.